Coal Stoves

DS Circulator
The DS Circulator will burn for up to two days. Known for its slow burning, the coal hopper is gravity-fed, using no electricity. The DS Regulator controls drafts. With different BTUs available, you can heat individual rooms or your whole house. Available in four sizes.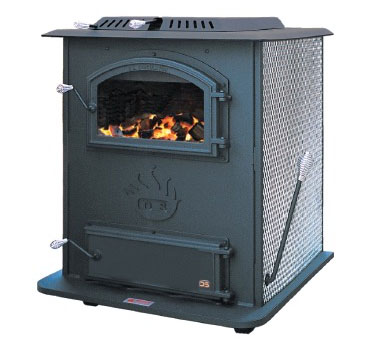 Anthra-Max
Anthra-Max is an American-made, coal stove that puts efficiency and function ahead of price. Designed for the first floor or basement of your home, the Anthra-Max features an innovative smoke and gas reburn system. Features include adjustable secondary air, extra-wide ashpan (for minimum spillage), 24-48 hour burn time, heat exchanger tubes for natural circulation, secondary reburn baffle and removable fire brick retainers (bolt on).
Anthra-Max DSXV14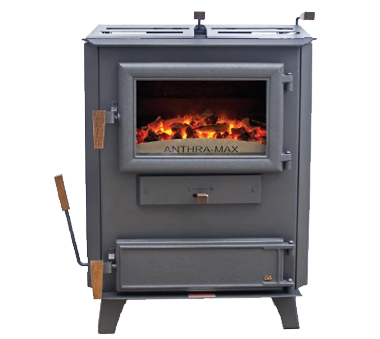 Anthra-Max DSXV16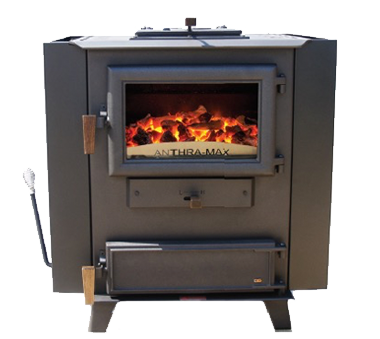 Anthra-Max DSXV15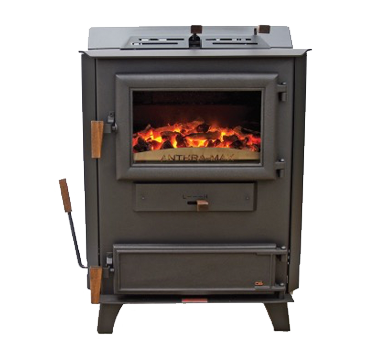 Comfort Max
The Comfort Max is the perfect blend of style, efficiency and flexibility. Designed to look like a piece of furniture, it provides a large view of the fire and burns coal with low emissions. Controlled by the DS Regulator, the secondary combustion system and heat exchanger make this unit 92% efficient.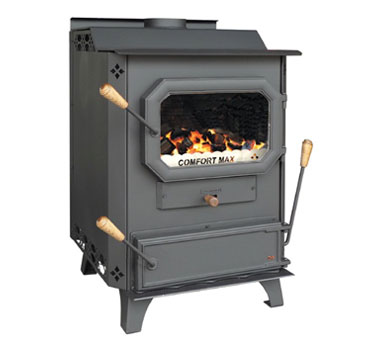 Alderlea T4
Alderlea woodstoves redefined the traditional cast iron stove by wrapping a graceful cast iron profile around a high-performance steel firebox, a combination that produces radiant and convection heat in an efficient, long-burning package. The T4 and the T4 Classic in porcelain enamel, incorporates a huge glass window for a clean view of the flame, warming shelves that swing out to reveal a concealed cooktop, efficient heat output and unmatched ease of use. It's a powerful, reliable source of heat with old-world charm and unmatched durability.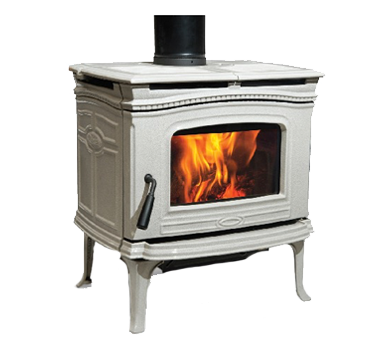 Alderlea T5
With elegant historic styling that adds to the decor of any room, the T5 and the T5 Classic in porcelain enamel, combine the best of cast iron and steel stoves for radiant and convective heat. With a concealed cooktop and a huge glass window for a clean view of the flame, the T5s are easy-to-light, easy-to-use, long-burning wood heaters with old-world charm and superior durability.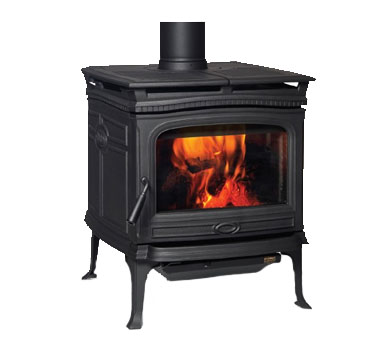 Alderlea 1.2
The Alderlea 1.2 takes the tradition of cast iron charm and wraps it over a highly efficient 1.2 cubic foot steel firebox. Ideal for the cabin or occasional use rooms, this little stove is designed for heating spaces requiring short burn times. Size does not mean compromise; the Alderlea 1.2 features a wide viewing area, reduced depth for installation flexibility, and a cast iron profile to provide lasting radiant heat.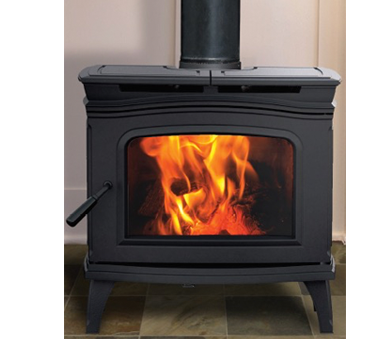 Super 27 & Super Classic
Our most popular woodburning stove based on our renowned firebox, the Super 27 and Super Classic deliver superb heating performance. With clean air wash technology, our high-capacity baffle system and legendary reliability, the Super Series is built for a lifetime of heat. Customize your Super to complement your home; choose from the Super 27 with traditional painted metallic black steel, or the Super Classic, richly finished in durable porcelain enamel and a choice of decorative trivets. Arched or radiant doors available only on the Super Series.
Super Classic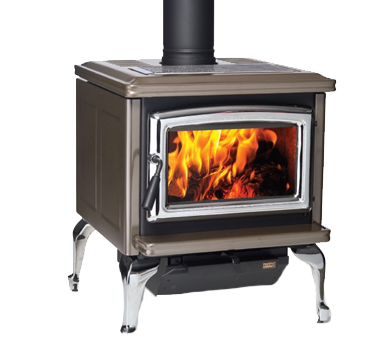 Super 27 with Legs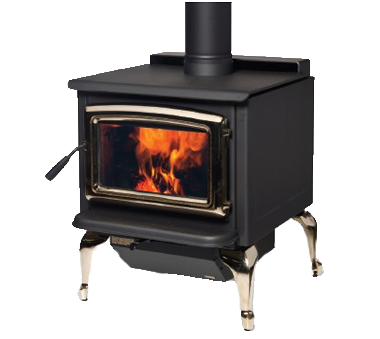 Super 27 with Pedestal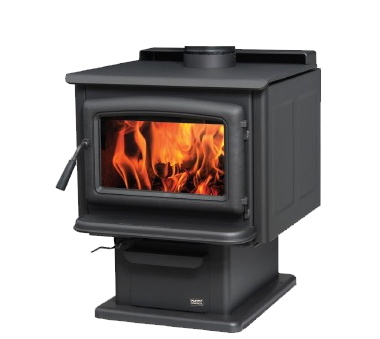 True North
True North is designed with the value-conscious buyer in mind. True North woodstoves deliver power and dependability. This rugged woodstove is designed for the serious wood burner. User-friendly operation, straight-in loading and clean glass are just a few of the outstanding features.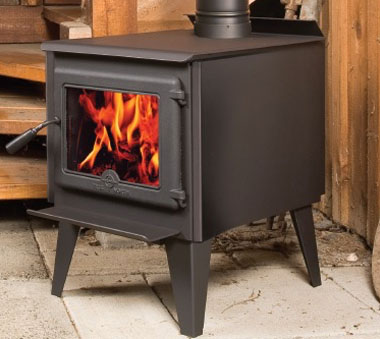 NEO 1.6
Make a bold statement with the innovative freestanding NEO 1.6. Its tall profile makes for easy loading and a line-of-sight view of the flame, while its clean lines and bold design ensure it will be the focal point of any room. Choose from painted side panels in a variety of colors or porcelain; provides radiant heat in addition to the NEO's high-efficiency finned heat exchanger. Like its larger cousin, the NEO 2.5, is a true heating machine, with Pacific Energy's solid steel construction.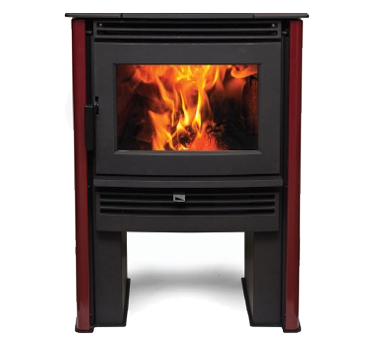 NEO 2.5
NEO 2.5 offers elegant, modern lines, and a practical tall profile design with a larger firebox and higher heat output. With no-stoop loading, a large glass door, and simplified air control, the NEO 2.5 is a practical woodstove with Pacific Energy's clean-burning technology that reduces emissions while maximizing burn length and fuel efficiency. It includes all the features and convenience of the NEO 1.6, including optional porcelain side panels in dramatic colors, and the ability to use the top as a cook stove. Installation is simplified with leveling legs for uneven surfaces.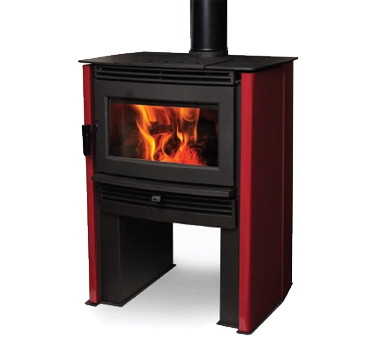 Kinderhook
The Kinderhook boasts a 130 lb. hopper, an integrated hearth pad, large ash pan, and digital controls. This is a truly turnkey pellet stove solution that customers hail as a "reliable workhorse of a pellet stove." This high BTU utility stove includes an interior steel brick panel, whisper-quiet fan and state-of-the-art digital control board.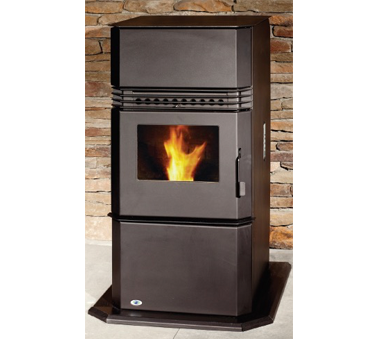 Davenport
This handsome design is both compact and sturdy. The pedestal feature offers a large capacity ash drawer, greatly expanding time between ash removal. The stove is handsomely crafted and constructed with our heavy-duty heat exchanger and whisper-quiet convection fan. The step-top design offers extended hopper capacity, which ensures longer refill intervals and extended heating value.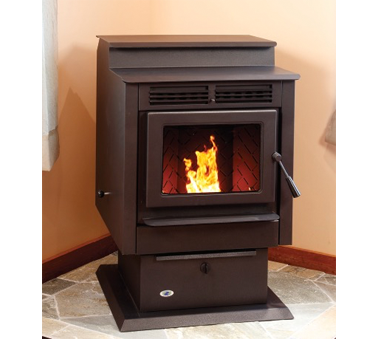 Oxford Direct Vent
The perfect addition to any room. Available in direct or natural vent, this beautiful stove combines the elegance of a woodburning stove with the convenience of gas. The solid cast iron construction features our radiant ceramic burner system with a large glass viewing area, allowing maximum viewing pleasure. It will add new warmth to any room in your home.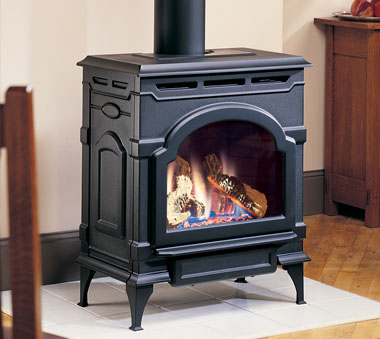 Westport Steel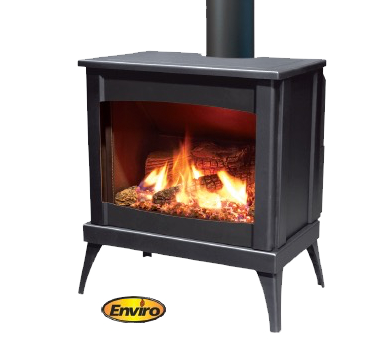 Includes LP conversion kit
Thermostat or remote compatible
Ceramic log set
Safety screen
Heavy-duty heat exchanger
Metallic black paint
Easy access control panel
Battery powered ignition system
14-gauge steel construction
Direct vent system
Top vent / rear vent convertible
Westport Cast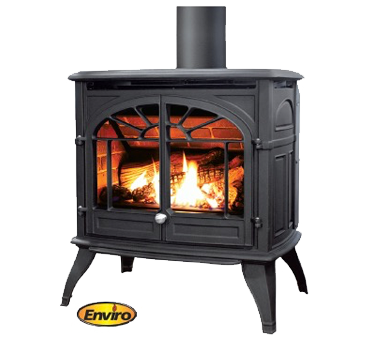 Includes LP conversion kit
Thermostat or remote compatible
Ceramic log set
Ceramic brick liner
Heavy-duty heat exchanger
Metallic black paint
Easy access control panel
Battery powered ignition system
Cast iron body and legs
Cast iron opening doors
Direct vent system
Top vent / rear vent convertible
S30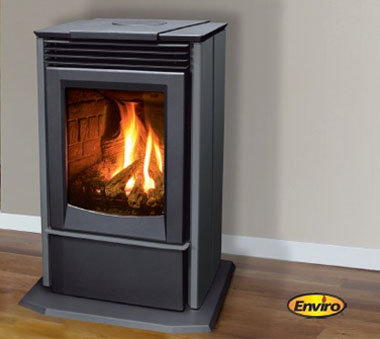 European-made cast iron accents
Choice of side panels and ash slip – painted black or powder-coated grey
Nova and IPI editions
Field conversion kit NG to LP
Thermostat or remote compatible
Ceramic logset
Removable hearth pad
Top vent / rear vent convertible
Heavy-duty heat exchanger
Easy access controls
150 CFM variable speed fan
Safety screen

NEO 1.6 Insert
Even a smaller fireplace can be a significant source of wood heat. You don't have to sacrifice contemporary design or the comfort of a fire in the hearth. Even a smaller fireplace can be a significant source of wood heat. The Neo 1.6 Insert for existing masonry fireplaces, is a solid, woodburning insert built of heavy-gauge steel with a cast iron door. With advanced heat exchange technology and a secondary combustion baffle, the Neo 1.6 Insert delivers exceptionally clean-burning, energy-efficient heating performance. It features a flush profile with a large, clear glass window that reveals the flame inside.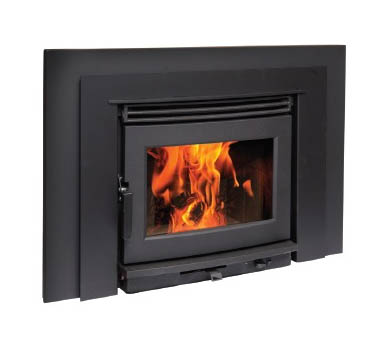 Alderlea T5 Classic Insert

Transform your fireplace into an efficient heating system and enjoy the traditional cast-iron styling of the T5 Inserts. Choose from rich metallic black or the added beauty and charm of lustrous porcelain enamel to create a striking centerpiece that provides long-lasting, clean-burning heat.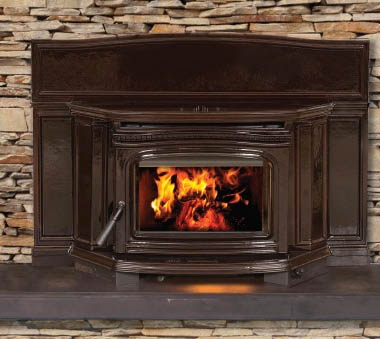 Super Insert
Pacific Energy's best-selling wood insert lets you enjoy efficient heating without losing the ambiance of an open fire. The Super Insert, with its large ceramic glass door, gives you the full comfort and view of your log fire. Transform your drafty fireplace into an easy to-light, easy-to-load reliable source of heat.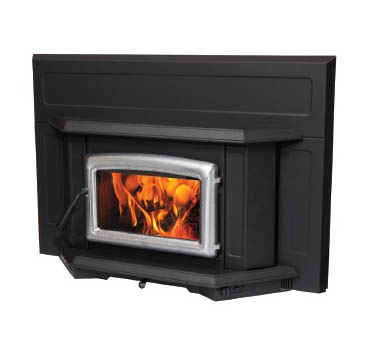 Summit Insert
For heating large spaces with an existing masonry fireplace, the Summit Insert is the solution. The first insert with patented Extended Burn Technology, the Summit provides 10 full hours of controlled burning, for a full night of wood-heated comfort. An efficient, clean-burning heat source, the Summit Insert is easy to light, easy to use, and offers a large window that provides a clear view of the flame. With a variable speed fan, clean-glass airwash technology and heavy-gauge overbuilt construction, the Summit will provide many years of comfort and enjoyment.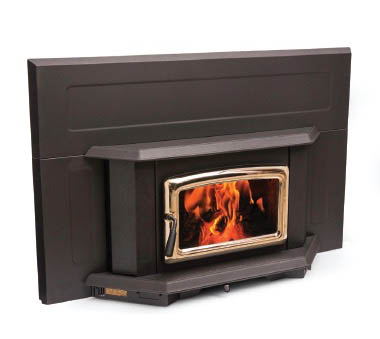 PE Fireplace FP25
Heat medium spaces with the reduced footprint of a wall-mount fireplace. The FP25 offers exceptional wood heat performance with a large contemporary cast iron door and viewing area. Crafted with a floating firebox of heavy gauge steel, a high-capacity baffle system, and EBT2 extended burn technology, this full-featured zero clearance fireplace is easy to load, easy to light, and will offer years of reliable heat for your home.
Homeowners can supplement their heat source with an optional Heat Distribution System with the FP25. Each heat duct is independently switch controlled, transferring heat into isolated rooms, and allowing for on-demand control and comfort.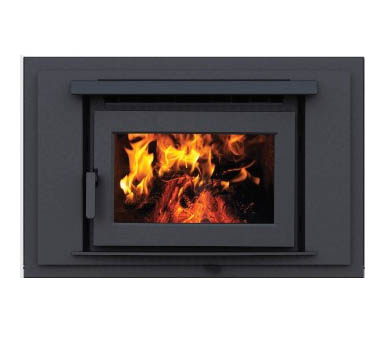 Gas Inserts & Fireplaces
Q1 Zero Clearance Insert or Fireplace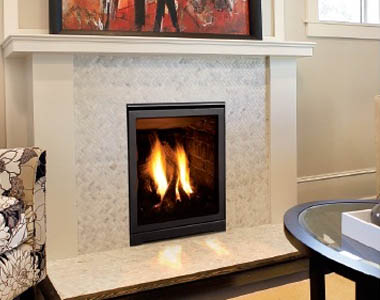 Clean face look – no louvers
SIT valve | standing pilot
Clear view safety screen
Hand-welded firebox
Top / rear venting options
Fireplace and fireplace insert configurations
Q4 Zero Clearance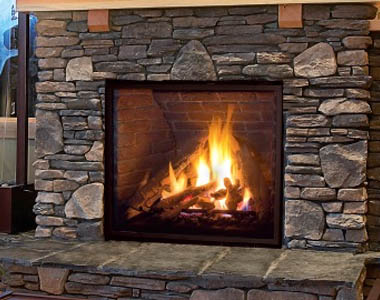 Clean face look – no louvers
IPI valve with remote
67% burner turn down
Viewing area: 29"H x 33¼"W
High–definition log set
Clear view safety screen
Cast iron log grate
Welded firebox
E33 Insert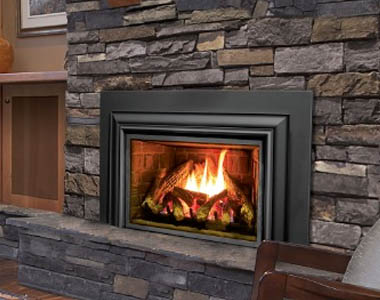 Clean face look – no louvers
SIT valve 820 (standing pilot)
SIT valve 885 (IPI system with remote)
High-definition log set
Easy-access burner switch
50% turn down valve
Clear view safety screen
Quick-access valve controls (contemporary and extruded surround panels only)