Gears Racks
Designed for quick release.
Hangers spread coat for superior air drying.
Powder coated metal racks in 22" stall sections or custom sizes and color to your specifications.
Wall mount or free standing with or without casters.
Installation Available. photo: wall mount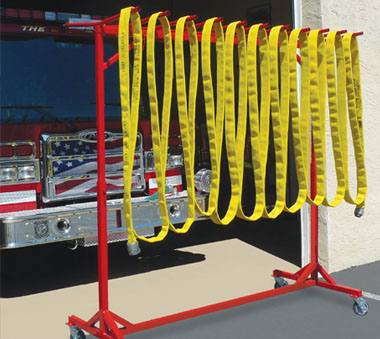 NEW 2016 Hose Dryer
Manufactured in Pennsylvania by firefighters, for firefighters.
FEATURES SPECIAL QUICK RELEASE & QUICK DRY RACKING TECHNOLOGY.
Dry's your hose organized
Collapsible for easy storage
Holds 1200' of Hose
Powder coated to the color of your choice
Heavy Duty / Built to Last a Lifetime
Lockable Casters photo: Hose Dryer collapsed for storage
About DS
Since 1980, DS, a family owned business in Lancaster Pennsylvania has made sincere ef­forts to have the most competitive and the highest quality product available and it shows in the product they manufacture. Traditional craftsmanship defines each product from wood and coal stoves to custom metal fabrication. With a goal of high efficiency and low mainte­nance, along with superior quality, DS products are built to last a lifetime. With four divisions, Stove manufacturing, Retail, Wholesale, and Custom / Production Fabrication, DS strives for excellency in everything they produce.