Luxeve Fire Pit
The Luxeve Fire Pit is designed to be a beautiful outdoor fire accent that creates a warm and inviting atmosphere in an upscale patio space. Using Breeo Industries' patent-pending smokeless technology, Luxeve takes it to a new level with a feeling of class.
A powder-coated exterior available in multiple colors, black modern feet, and fire pit glass around the rim, gives Luxeve contrast and style. Using the Luxeve Fire Pit as a substitution for gas fire pits has many economic, environmental, and even social benefits.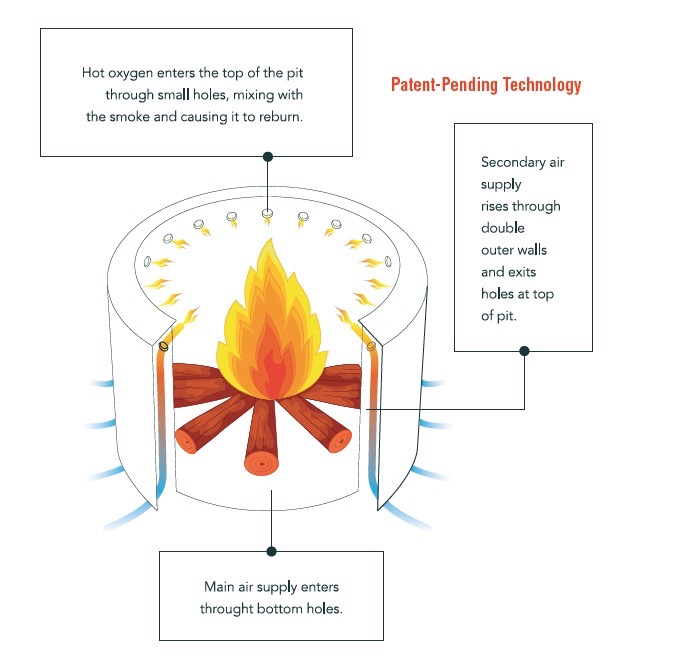 Zentro Fire Pit
Zentro™ nearly eliminates annoying smoke for playing guitar or swapping stories. Zentro™ works with new or existing fire rings, fitting inside diameters from 33-44" with a retro-fit ring, or 30-32.5" without.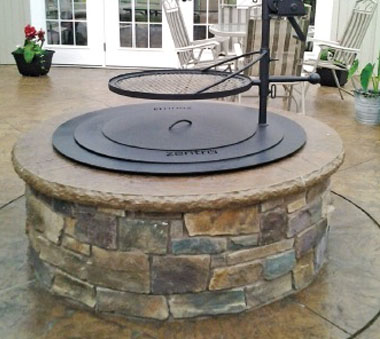 Double Flame Fire Pit
Double Flame is the camping, prepping, off-grid machine. Designed to burn forest debris such as fallen branches and twigs, Double Flame functions without any need for conventional split firewood. Like all Breeo products, Double Flame would have functioned just as well 1,000 years ago. Next time you are heading to the campsite or remote location, think about the value of a clean burning, heating, lighting and cooking machine.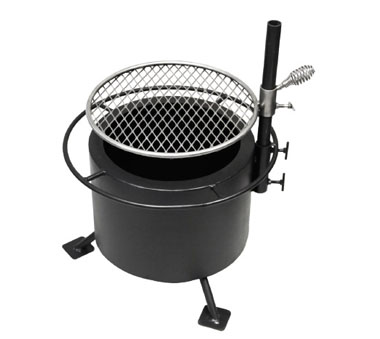 Ablaze Fire Pit
Ablaze is the original smokeless fire pit. This unit is no-nonsense, heavy duty, and ready for whatever cooking, heating, or lighting duty that comes its way. Not the prettiest fire pit, Ablaze is the toughest. Great for hardcore outdoors people, grilling, and as a heavy duty off-grid alternative. Ablaze won the Best-in-Category and Best-in-Show at the 2014 Vesta Awards (Hearth and Home  Magazine). This is one of the most prestigious industry awards available for fire pits and outdoor hearth products.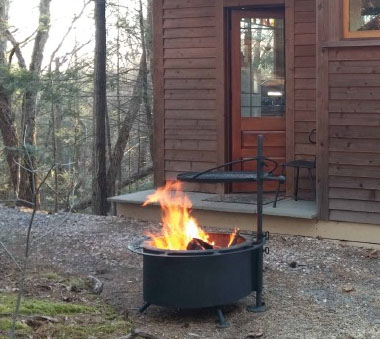 Candle Lights
What makes JOI so incredible is that it doesn't use batteries, solar, or wall power to create its light. Caframo is known for its unique wood stove Ecofans. JOI uses the same thermoelectric technology to transform the energy of a tea light candle into enough light to illuminate an outdoor living space.
Within minutes, JOI begins to convert the heat of the candle into more than 18x the light generated by the tea light alone. Constructed of stainless steel, glass and aluminum, JOI is built to withstand the outdoors. Designed to be a contemporary centerpiece with style that appeals to all. JOI gives consumers a magical and useful light source for outdoor entertaining.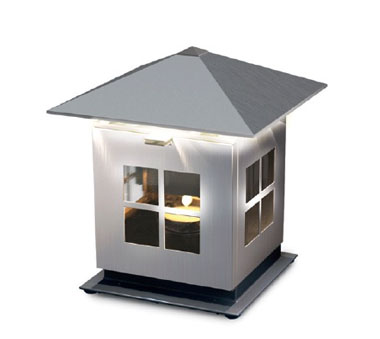 Rustic Woodfired Pizza Oven
Enjoy delicious wood fire-roasted and grilled food with your very own rustic wood-fired oven. These ovens are perfect for any cooking enthusiast and are safe for the whole family. Each has a superior yeast retention on the inside to cook your favorite meals. Ideal for pizzas, meats, breads and more, cooking on the inside while remaining cool to the touch on the outside.
Wow your friends and family with this unique backyard cooking experience. The delectable taste of food prepared in the Rustic wood-fired oven is like no other.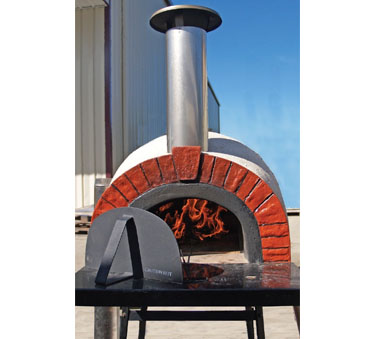 2 Burner Stoves
DB60D 2-Burner Stove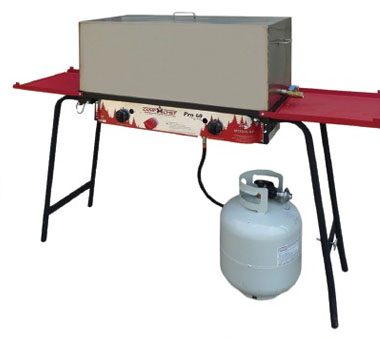 Fits DS #25 Canner
60,000 total BTU/HR
2 cast aluminum burners
Folding legs
Built-in ignition
Side shelves included
(Shown with #25 DS Canner)
EX60lW 2-Burner Stove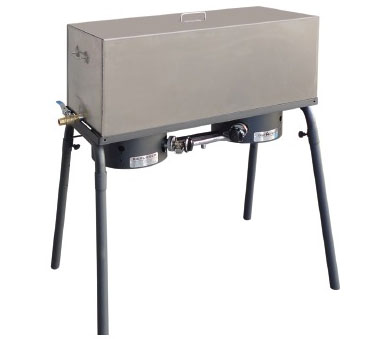 Fits DS #25 Canner
60,000 total BTU/HR
2 cast iron burners
(Shown with #25 DS Canner)
Pro 60 Two Burner Patio Cover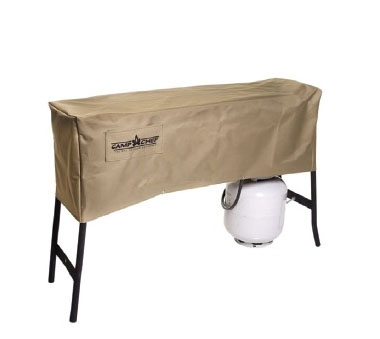 Weather-resistant liner
Durable construction for patio or base camp
Fits model: DB60D
Covers 1 burner

Grills & Grill Box Accessories
Deluxe BBQ Grill Box Accessory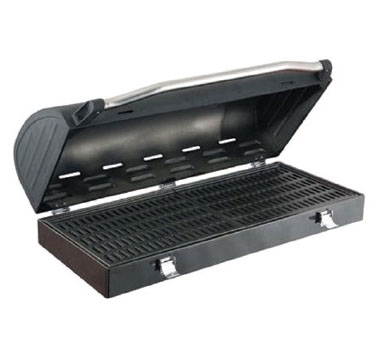 Fits most Camp Chef 14" stoves
14" x 32" cooking grill (448 sq. in. total cooking surface)
Built-in temperature gauge
Covers 2 burners
True seasoned finish cast iron grill grate holds the heat and sears the meat
Specially designed heat diffuser plates turn flame into infrared heat and instantly vaporizes grease drippings
Deluxe BBQ Grill Box Accessory
Fits all Camp Chef 14" stoves
14" x 16" cooking grill (224 sq. in. total cooking surface)
Built-in temperature gauge
Covers 1 burner
True seasoned finish cast iron grill grate holds the heat and sears the meat
Specially designed heat diffuser plates turn flame into infrared heat and instantly vaporizes grease drippings
Reversible Grill / Griddle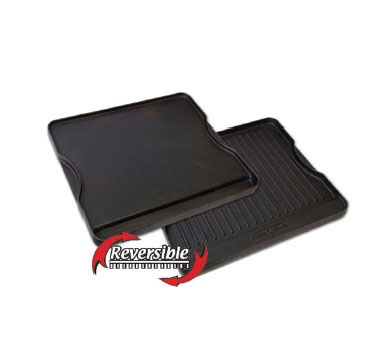 Fits all Camp Chef 14" and 16" stoves
14" x 16" cooking area (224 sq. in. total cooking surface)
2-in-1 reversible design for grill or griddle
Covers 1 burner
True seasoned finish cast iron grill / griddle holds the heat and sears the meat

BS40C Table Top Burner
The power of a big stove in a compact body
Lightweight cast aluminum burners
34,000 BTU / hr. total
5 ft. regulator and hose included, hooks to 20 lb. LP tank
Matchless ignition
(Shown with #15 DS Canner)