SS Pipe & Accessories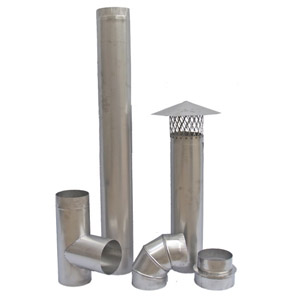 24 ga. stainless steel 316L rigid stovepipe or liner
Size range: 4" x 24" to 8" x 48"
24 ga. stainless steel. adj. ELL 316 size range: 4" to 8"
24 ga. stainless steel. adj. ELL 304 size range: 6" to 8"
316 removable nose tees size range: 5" to 8"
316 stainless steel solid tees size range: 5" to 8"
304 stainless steel solid tees size range: 6" to 8"
Black Pipe
Additional black pipe items are available (not listed)
24 ga. black pipe sizes range from 4" x 12" to 8" x 48"
Black slip joint sizes range from 6" to 8"
32" – 60" telescopic pipe sizes range from 6" to 8"
24 ga. 90ºF black adj. ELL sizes range from 4" to 8"
24 ga. 90ºF black. corr. ELL sizes range from 6" to 8"
24 ga. 45ºF black ELL sizes range from 5" to 8"
Black tee cap – no crimp sizes range from 4" to 8"
24 ga. black tee sizes range from 4" x 4"x 4" to 8" x 8" x 8"
Direct-Temp Pipe For Gas or Pellet Stoves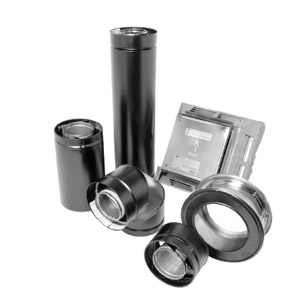 Horizontal termination kit "B"
One 90˚F elbow
One wall thimble
One horizontal termination
One appliance adapter
One 24" pipe
One adjustable length pipe (4–10")

Premium Grade Stainless Steel Factory-Built Chimney
SuperPro incorporates the latest technology in factory-built chimney design, providing superior performance, durability and safety. This heating solution is designed to accompany today's appliances, which are engineered to produce low emissions and high heat. This makes SuperPro the choice of professionals who are looking for a better quality, factory-built chimney system.
All SuperPro Twist-Lock Couplers are embossed (not lanced) and seams are weatherproofed to prevent moisture from entering the chimney. Insulation: the 1" space between the inner/outer walls is solid packed with mineral wool fiber insulation to provide superior insulating qualities, in a "slim-line" design. Solid-pack design performs favorably to blanket type and air-cooled chimney designs.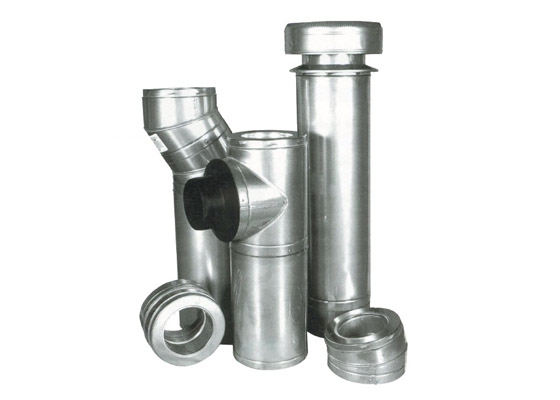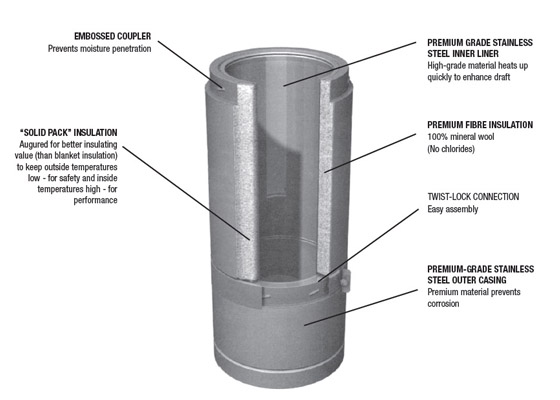 Ceiling Support Kit
When your chimney goes up through a ceiling, then through the roof, choose the Model SPR Decorator Ceiling Support Installation Kit – SPR*CSK.
Deluxe rain cap
Attic insulation shield
Decorator ceiling support
Stove pipe adaptor
Note: For a 2-story application, purchase the Ceiling Support Installation Kit and install an additional Firestop Radiation Shield. Then all you need is roof flashing, chimney lengths and locking bands.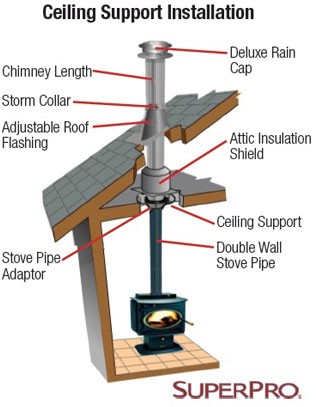 Cathedral Ceiling Support Kit
When your chimney goes out a cathedral or open beam ceiling, choose the Model SPR cathedral ceiling support installation kit – SPR*CCSK.
Deluxe rain cap
Cathedral ceiling support
Draw band
Trim kit
Stove pipe adaptor
Now you just need your roof flashing, chimney lengths and locking bands.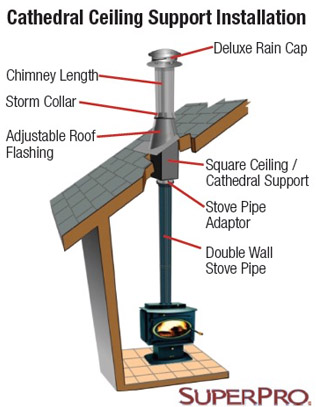 Wall Support Kit
When your chimney goes out a wall and then runs straight up, you'll need the Model SPR Wall Support Installation Kit – SPR*WSK.
Deluxe rain cap
Wall bands (2)
Stove pipe adaptor
Wall thimble
Stainless steel tee with plug
Adjustable wall support
Now all you need are vertical chimney lengths, through the wall length (must extend at least 3" into the room), 12" chimney length or insulated tee plug (installed below the stainless steel tee) and locking bands.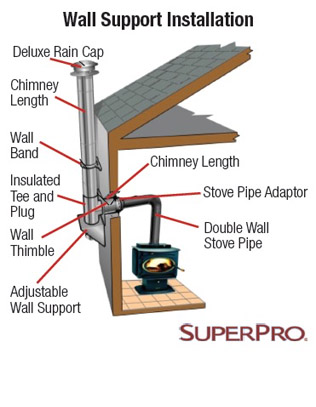 Pellet Tee Liner Kits
(304)
LightWall stainless steel liner (304.006 thickness)
TPCC – square lid cap to fit the fl at top plate with collar (24 ga. 304)
TPC – flat top plate with collar 13×13 (24 gal. 304)
TFPS – 3" or 4" fixed pellet tee with short body and 3" dia. or 4" dia. snout (24 ga. 304)
TECP – short tee end cap (24 ga. 304)
Installation instructions and warranty card
Sizes range from 4" x 20' to 4" x 35'
Aluminum Liner Kits For Gas Stoves & Inserts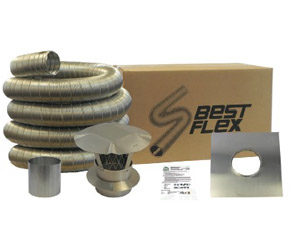 CLA – aluminum rain cap
TPA – aluminum top plate with 2" collar and 16 × 16 plate
Aluminum liner (2-ply 3003)
MCA – aluminum mortar collar
Sizes range from 3" x 25' to 6" x 50'
Manufactured with 2-ply 3003 aluminum
Transferrable 15-year warranty
Barometric Tee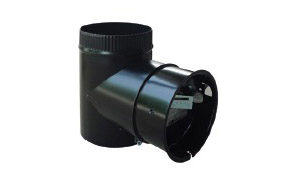 B-Vent Gas Piping
Strong, durable galvanized steel outer pipe has internal spacing beads to ensure a uniform insulating air space between pipe walls. Each end is die-formed to ensure uniform sizing for strong, easy-to-connect joints, which resist wasteful handling and shipping damage.
The inner aluminum pipe is attached to the outer pipe at only one end. This arrangement allows for differential expansion between the two pipes, eliminating operational noises.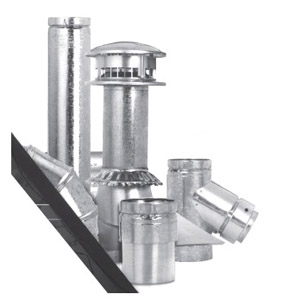 Chimtek Masonry Chimney Systems
Modern wood-burning stoves and fireplaces are designed to provide maximum heating efficiency while producing a minimum of pollution. The chimney can have a major effect on how well these appliances perform under real-world conditions. Chimtek combines quality materials and advanced technology to create America's safest and most efficient liner for masonry chimneys. The double lining concept is an important part of Chimtek's outstanding performance and quality heating solutions!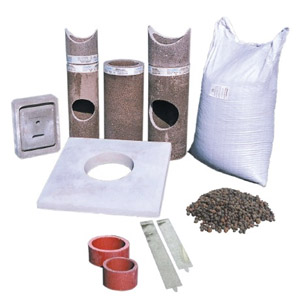 Colinear Top Plate & Cap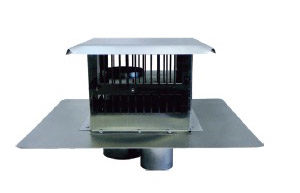 For gas stoves and inserts
Colinear kit includes 2"-3" liners and cap

Single Flu Terra Cotta Cap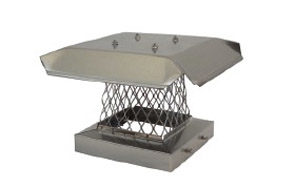 Manufactured with 20 ga. stainless steel flue-fit base
8" height, 3/4" stainless steel mesh
24 ga. 304 stainless steel lid
Lifetime warranty
Available in 9" x 9", 9" x 13" and 13" x 13" sizes

Chase Cover Custom Fabrication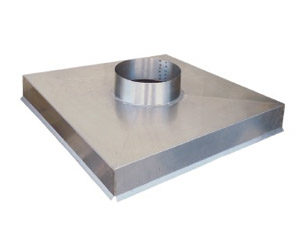 DS will custom design and fabricate any stainless steel chimney cap or chase
Water tight/all splices soldered or tig welded
22 ga. or 18 ga. 304 stainless steel

SS Flex Liners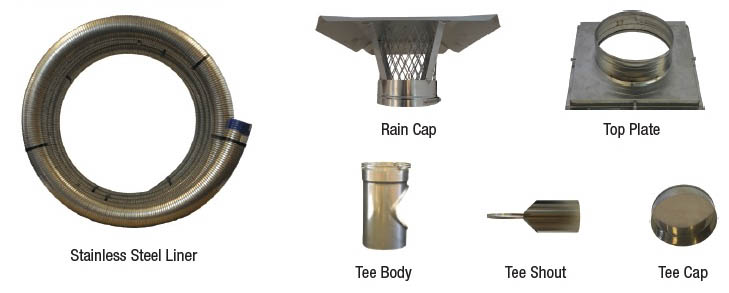 Mfg. with .010 thickness 316 stainless steel
No memory
Lightweight and rugged
No 20% drag factor
Crossover Kits range in size from 6" x 20" to 8" x 35"

All-Fuel Chimney For Hearth Professionals
UltimateOne Chimney Heating Solutions
Thermal Reduction Spacer: Allows for expansion of the inner and outer pipes without fear of buckling in the event of a chimney fire. Also significantly reduces heat transfer at the joint.
Our continuous-welded seams give the UltimateONE Chimney exceptional strength while eliminating moisture penetration into the insulation.
Latch-type Locking Band:: Included with each insulated length tee and elbow. Engages quickly by latching to positively lock together each of the components. No tools required.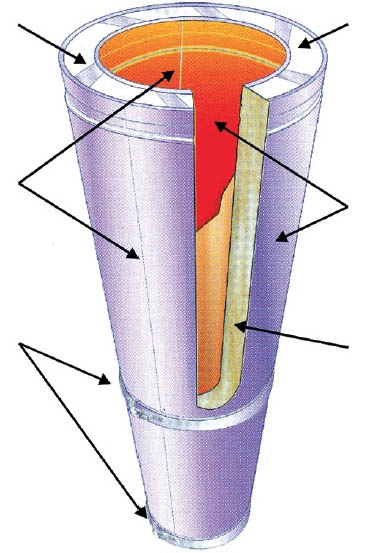 Insulation-to-Insulation Contact: Creates a continuous column of protection, which eliminates cold air infiltration at every chimney joint. Significantly reduces the formation of creosote and therefore the potential for chimney fires.
304 Stainless Steel Construction: Used for both the inner liner and outer casing for superior resistance to corrosion. 316 SS inner liner is available.
Solid-Pack Insulation: Provides maximum safety and performance. UltimateONE chimneys contain one full inch of insulation for superior insulating value and fire protection. UltimateONE's unique solid-pack design helps keep flue temperatures high (performance) and outer temperatures low (safety).
The following are four basic Chimney Kits designed around one of the standard support systems. Select the kit that is best suited for your installation, along with the required chimney lengths to reach your desired height and a suitable adjustable flashing. Other components may be required such as elbows, firestop radiation/joist shields and universal Roof Brace Kit.
Ceiling/Cathedral Support Kit - Square
Provides the support and termination parts required for a chimney system supported by a flat or cathedral ceiling and passes through an attic and penetrates the roof.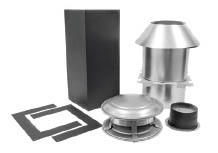 Ceiling/Cathedral Support Kit - Round
Provides the support and termination parts required for a chimney system that is supported by a flat or cathedral ceiling and passes through an attic and penetrates the roof.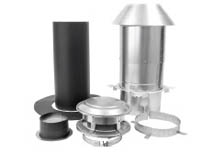 Wall Support Kit
Used for a wall-supported chimney system with a horizontal connection passing through an exterior wall, connecting to an insulated tee and running vertically up the exterior wall to terminate above the roofline.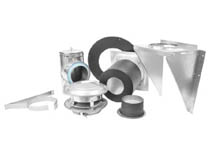 Extended Wall Support Kit
Used for a through-the-wall installation to support a vertical system above the insulated tee. It allows the chimney to pass by a 12" overhang but will not work if installation is less than 5.5" from a vertical wall.