Ecofans
The Caframo Ecofan™ is a heat-powered fan designed to circulate the warm air created by a wood or gas stove. These fans generate their own electricity without cords or batteries. Ecofans use a thermoelectric module that acts as a small generator to power the fan's motor using a principle called the "Seebeck Effect." The patented design of the Ecofan allows the base of the fan to heat the bottom surface of the module, while the top of the module is kept cooler by the fan's top cooling fins.
Available in various sizes and styles to accommodate different temperature ranges.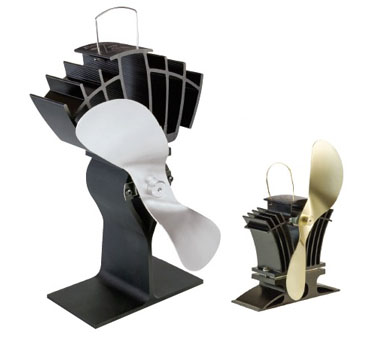 Firebrick (Multiple Sizes)
We stock both 1 1/4" thick and 2 1/2" thick firebrick in multiple sizes.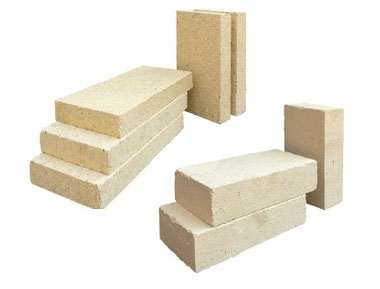 Hearth Boards & Wall Protection Boards
Flat wall, corner and wall protection hearth boards are available. Sizes range from 36″ to 54." Many styles, patterns and colors and textures and materials are available in our showroom for gas, pellet, coal, wood stoves and fireplace inserts. They're an essential part of any heating system.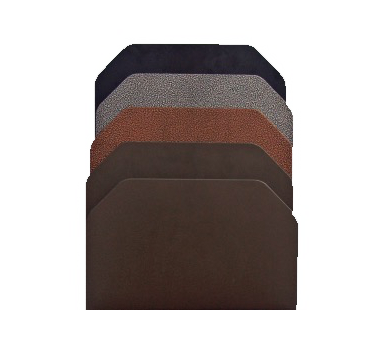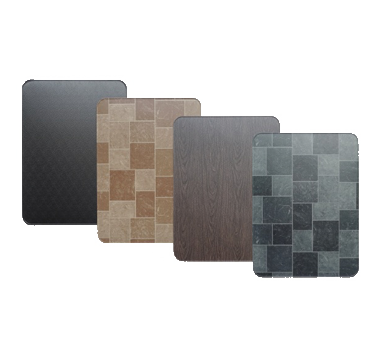 Fireplace Tools & Accessories
Available in various sizes and styles and finishes.





Hearth Rugs
Available in various sizes and styles and finishes:
Woven from the highest quality 100% virgin wool, richly dyed to custom colors
All rugs meet Federal requirements of Part 1631 (FF2-70) for surface flammability of small carpets
Soft pile provides additional comfort while tending to a fire or simply sitting close by for warmth
44" x 22"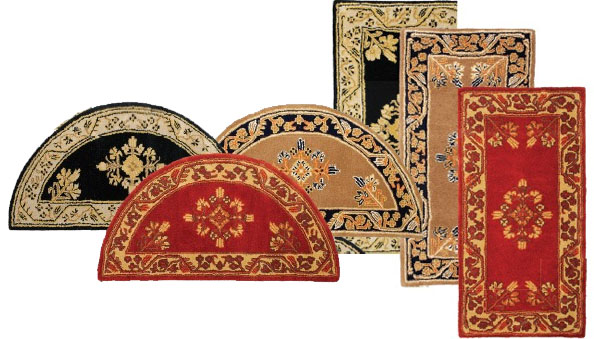 Fireplace Screens
Available in various sizes and styles and finishes.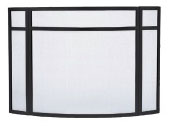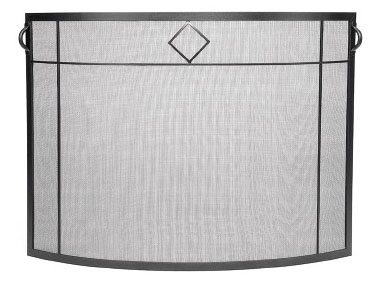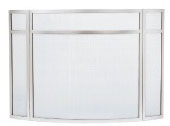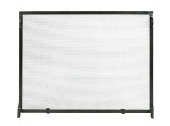 Log Ends
Place Log Ends™ near your fire ring, ceramic "chimney-type" fire-pot, on your desk, or in your patio or yard.
Indoor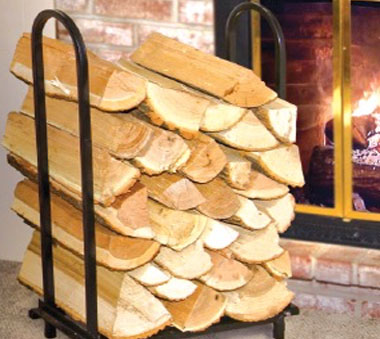 Looks and works great indoors beside your:
Deck & Patio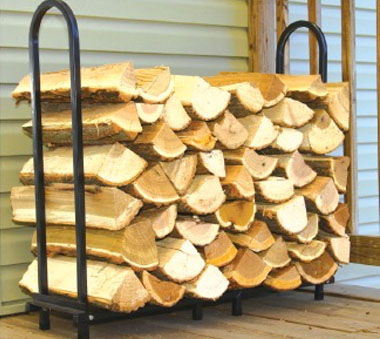 Set the size to fit use:
Keep your huge outdoor pile neat
Set Log Ends™ closer for medium stacks
Small loads stay tidy indoors
Outside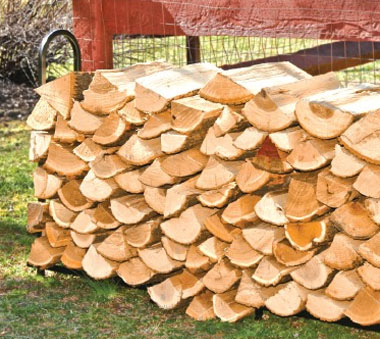 Keeps your woodpile stacked. Logs won't roll off pile; completely weather-resistant:
Durable powder-coated finish
Stainless steel hardware
Rubber foot ends
Safe Lite® Fire Starters
The safe alternative to liquid charcoal fire starters! This product has been stringently tested and complies with the South Coast Air Quality Management District Rule 1174 ref. C58. Squares light quickly and easily even when wet and burn 8-10 minutes. Suitable for charcoal grills, fireplaces, wood and pellet stoves, and campfires. Non-explosive, no dangerous flare-up, non-toxic; will not flavor food. These compressed wood chip- and wax-based squares contain 10% recycled wood and paper fiber. Just break off several fire starters; stand on end with edges touching and light. Item 50C packaged in a cut case.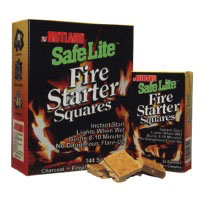 Creosote Remover Stick
Pre-measured for toss-in convenience. Modifies creosote by changing it from a sticky tar-like substance to a brushable ash. Toss entire tube into a brisk fire. Use two tubes weekly for the first month of treatment, then one per week for the rest of the heating season. Packed in display carton with pop-up header.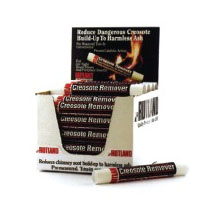 Stove Thermometer
Magnetically attaches to stovetop, door or flue pipe to show at a glance if the stove is operating within an efficient burning range. Indicates overheating or a low temperature creosote build-up hazard. Attractive baked enamel face; safety wire is included.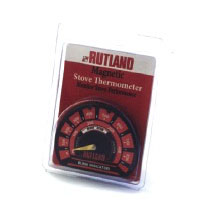 Fireplace Mortar
Our original fireplace mortar formulated especially to patch fireplace fireboxes and bond firebrick to firebrick. Fireplace mortar is a silicate product that when fire cured, sets rock hard — as strong as firebrick itself and withstands 2000ºF. Comes in a convenient cartridge for easy repointing of fireplace brick within the firebox. Not for exterior use. Colors match most mortars. Passes ASTM E136 and E72. 10.3 oz. cartridges.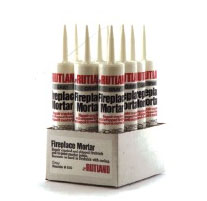 Stove & Gasket Cement
THE ORIGINAL
A black silicate-ceramic stove cement. Adheres all types of gasket materials to airtight stoves and used for making metal-to-metal or metal to masonry repairs. Withstands temperatures to 2000ºF. Packed in cut cases.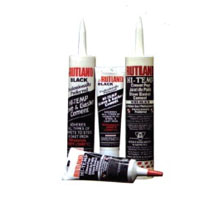 Castable Refractory Cement
Originally developed for use in blast furnaces. Has exceptional strength and abrasion resistance, and is ideal for casting into custom shapes to replace worn out firebrick. When the dry material is mixed with water, it chemically sets and dries brick hard. It can be cast into irregular shapes, used to fill large holes or cracks in masonry firebox, or as a solid stone bed. May be used in outdoor fire pits. 12.5 lbs. casts a block 12" x 12" x 1 1/4". Light brown when cured.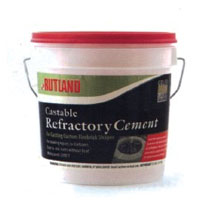 Black Furnace Cement
The benchmark furnace cement for over 50 years. Rutland Furnace Cement is a pre-mixed silicate cement that withstands temperatures over 2000ºF without failure. The smooth consistency feathers very thin to make metal-to-metal joints smoke and gas tight. For installation and service of furnaces and oil burners. Seals flues and coal or ash pit doors. Also for small woodstove repairs. Item 64C is packed in cut case.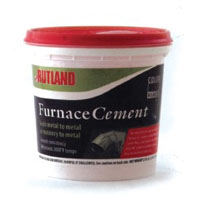 500ºF Rtv Silicone Sealant
Forms a tough rubbery adhesive and maintains its flexibility. Seal fireplace inserts, solar panel repairs, flashings; apply ceramic tiles anywhere a black or translucent permanent elastic seal is needed both indoors or outdoors; adheres to glass, metal, most plastics, fiberglass, aluminum, wood, brick and slate.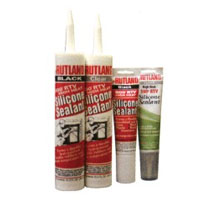 Fireplace Glass Cleaner
Easy-to-use spray-on formula effectively removes creosote, soot and grime on fireplace enclosure doors and hearth. Safe, non-acidic formula. Packed in a cut case.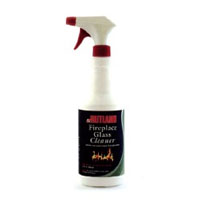 Pellet Stove Brushes
Made with quality poly bristles available in 3" and 4" round sizes. Heavy-duty ball tip guides brushes through narrow offsets and bends. Rods: use 25P-5 (5' rods) or PSR-20 (20' kit – eight 2.5' rods); Fitting: 1/4-20 thread.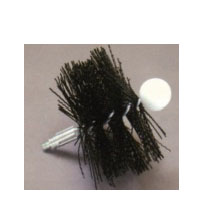 Extension Rods
Fiberglass Rods –1/4" Threading
Standard duty, brown, 0.350 dia. Fits chimney sweep brushes.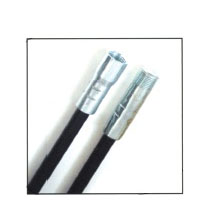 White Off® Glass-Ceramic Cleaning Cream
Non-abrasive White Off glass-cleaning cream is specially formulated to remove white residue caused by gas log fires on glass fireplace doors. Cleans without scratching or micro-pitting. Great for cleaning glass ceramic cooktops, composite sinks and fiberglass showers. Safe for use on glass-ceramic woodstove windows.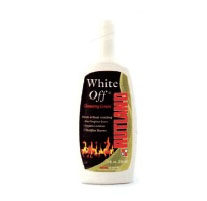 New Old-Fashioned Chimney Cleaners
Square cleaner extends from 7"– 12", round cleaner extends from 6"–10", rectangle cleaner extends from 7"–12" small side, 9"–14" Large side.
Not for use in stainless steel chimneys.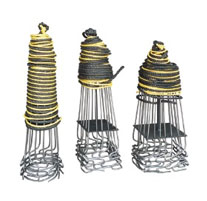 Furnace Gloves
It's all in the leather. While low-grade split leather gloves have price appeal, leather grade truly makes all the difference — the value gained from extended durability typically experienced with our premium and high quality category selection.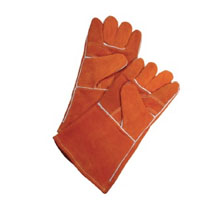 Moisture Meter
Wood with a 15% to 20% moisture level burns best, producing the most heat and minimum creosote build-up. Push the four prongs into the firewood's split face to quickly produce a moisture reading between 3% and 40% on the large backlit LCD display. Includes padded carrying case and 9-volt battery.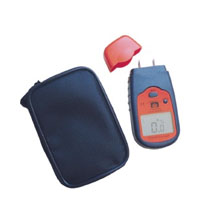 BK100E Barrel Kit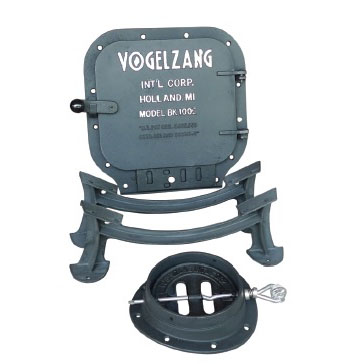 Converts steel drum into wood stove
All cast iron
Fits 30-gallon or 55-gallon drum
Cool-touch door latch
Slide draft control
Large 10" x 11" opening
Built-in damper / collar
Fasteners included
Mini Pallet Jack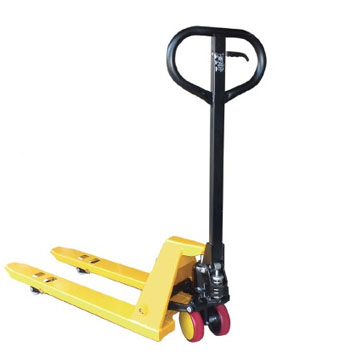 4" x 32" forks
Weight limit: 1,100 lbs.
Overall width: 15"
Works great for stoves
Hearth Country Ash Vac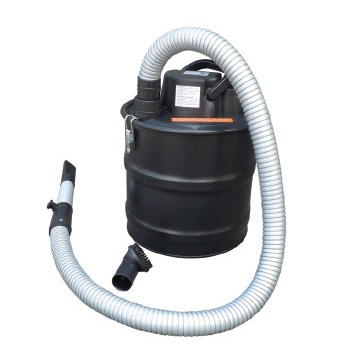 Available with the following add-on accessories:
HEPA Cartridge Filter for Ash Vacuum #400
Sootstop Dacron Prefilter for #400 Ash Vac/li>
Stayput Smoke Shelf Hose for Ash Vac 1.5" x 3" – bends and holds position
Additional Accessories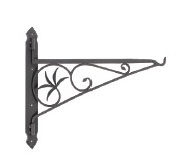 24" Swivel Arm / Fireplace Pot Holder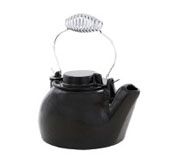 Humidifying Kettles
2 1/2 quarts, 5 3/4"H at lid, 7 1/2" dia. at bottom, cast iron, baked enamel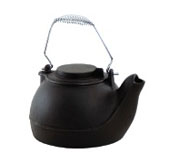 Cast Iron Kettles
Available in 2.5 or 5 quarts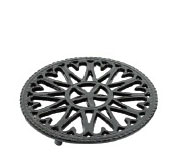 Trivets (Black)
7" dia. cast iron, baked enamel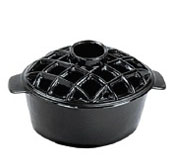 Lattice Top Steamers
7 1/4" W x 11"L x 6 1/2" H; 2.2 quarts cast iron, baked enamel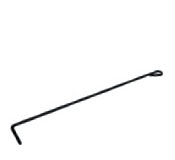 30" Poker Rod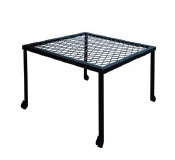 Drying Rack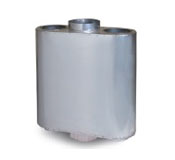 Stove Pipe Heat Saver
Available in 6", 7," or 8"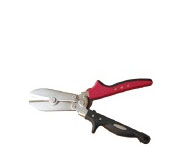 Stove Pipe Crimper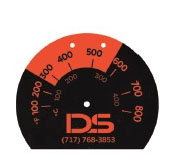 Stove Thermometer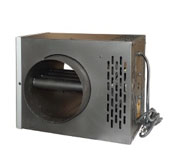 Heat Reclaimer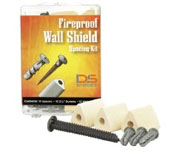 Wall Spacing Kit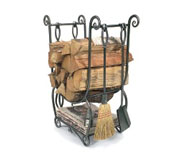 Hearth Side Log & Accessory Holder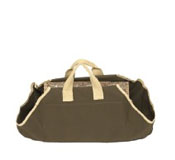 Log Carrier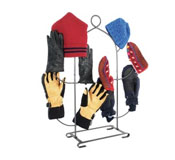 Mitten Tree
Fits on top of most stoves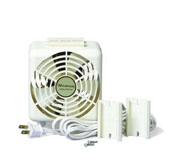 Room-to-Room Doorway fan
Easily reversible, lifelong lubricated, motor rated for continuous use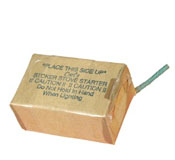 Stoker Stove Starter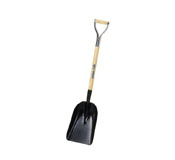 Furnace Shovel
Plain blade, 27" handle with armor D-grip, limited lifetime warranty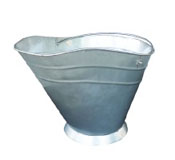 SS Coal Bucket
Holds approx. 45 lbs. of coal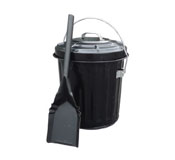 4-gal. Black Ashpail with Shovel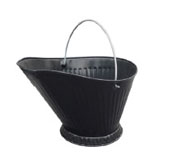 Black Coal Hod
Holds approx. 30 lbs. of coal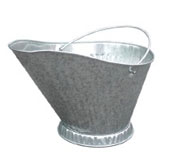 Galv. Coal Hod
Holds approx 30 lbs. of coal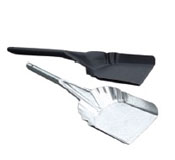 17" Shovel
Available in black or galvanized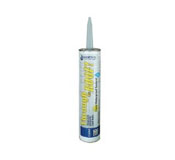 Through the Roof Clear Waterproof Sealant
Stops and prevents roof leaks, sticks to wet surfaces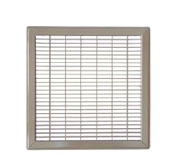 Brown Floor Grille
Sizes range from 10" x 4" to 30" x 20"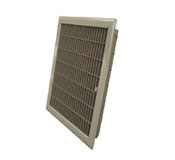 Brown Floor Register
Sizes range from 4" x 10" to 16" x 14" w/multi-shutter damper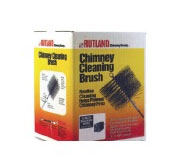 Round Wire Chimney Brushes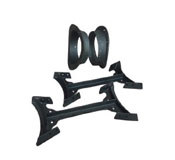 BK50E
Double barrel adapter, easy to install, fasteners included, all cast iron
Geni 6XR With Remote Control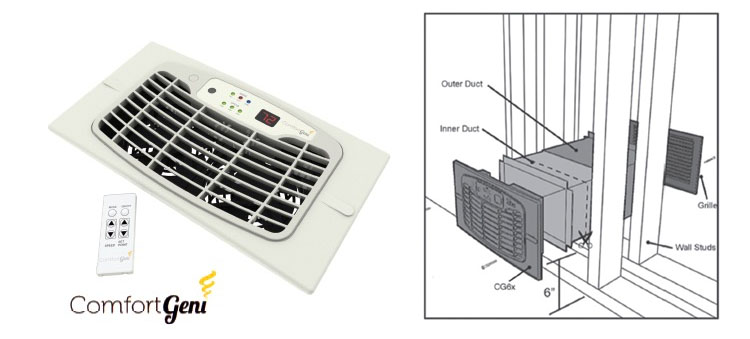 Description:
Smart heating solution!
Balances temperatures from room to room and level to level
Distributes heat from any space heater to another room
Blends into any décor and fits flush to the floor, wall or ceiling
As a register booster fan, it improves room comfort, both heating and cooling, for just pennies a day
Library-quiet DC fans
12-month warranty
Easy install for any DIY home owner
Features Include:
DC Motors: quieter, less costly to operate, last longer than AC motors
Built-in temperature sensor – fan runs only when the source air
helps to achieve the desired temperature
Automatic ON/OFF function for energy savings
FAN, HEAT and COOL settings for use in all seasons
HIGH, MEDIUM and LOW speed settings
Hi-Heat Paint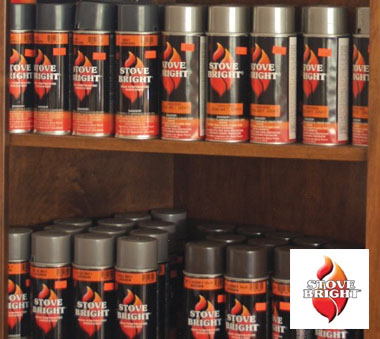 Hi-temp paint features:
Silicone formula retains color with extended exposure to 1200˚F / 650˚C
High-quality fast drying formula resists scratching
Easy to apply
Various colors and finishes available from almond to metallic black